#fsb-social-bar { width: 100%; border-bottom: 1px solid #dbdbdb; border-top: 1px solid #dbdbdb; padding: 10px 0; margin: 0px 0 20px 0; float: left; background: #fff; position: relative; clear: both; } #fsb-social-bar a { border: 0px !important } #fsb-social-bar.fsb-fixed { position: fixed; top: -2px; z-index: 99999; } #fsb-social-bar .fsb-title { display: block; float: left; margin: 3px 20px 0 0; font-size: 16px; font-family: Arial, Helvetica, sans-serif; text-decoration: none; color: #333; } #fsb-social-bar .fsb-share-facebook { width: 120px; float: left; padding: 3px 0 2px; height: 25px; } #fsb-social-bar .fsb-share-facebook.fsb-hide-count { width: 44px; overflow: hidden; margin-right: 30px; } #fsb-social-bar .fsb-share-twitter { float: left; width: 135px; padding: 3px 0 2px; height: 25px; } #fsb-social-bar .fsb-share-twitter.fsb-hide-count { width: 61px; overflow: hidden; margin-right: 30px; } #fsb-social-bar .fsb-share-google { float: left; width: 105px; padding: 3px 0 2px; height: 25px; } #fsb-social-bar .fsb-share-google.fsb-hide-count { width: 33px; overflow: hidden; margin-right: 30px; } #fsb-social-bar .fsb-share-linkedin { float: left; width: 135px; padding: 3px 0 2px; height: 25px; } #fsb-social-bar .fsb-share-linkedin.fsb-hide-count { width: 61px; overflow: hidden; margin-right: 30px; } #fsb-social-bar .fsb-share-pinterest { float: left; width: 115px; padding: 3px 0 2px; height: 25px;} #fsb-social-bar .fsb-share-pinterest.fsb-hide-count { width: 43px; overflow: hidden; margin-right: 30px; } #fsb-social-bar .socialite { display: block; position: relative; background: url(http://clothtrainingpants.net/wp-content/plugins/floating-social-bar/images/fsb-sprite.png) no-repeat scroll 0 0; } #fsb-social-bar .socialite-loaded { background: none !important; } #fsb-social-bar .fsb-service-title { display: none; } #fsb-social-bar a { color: #333; text-decoration: none; font-size: 12px; font-family: Arial, Helvetica, sans-serif; } #fsb-social-bar .fsb-twitter { width: 105px; height: 25px; background-position: -13px -10px; line-height: 25px; vertical-align: middle; } #fsb-social-bar .fsb-twitter .fsb-count { width: 30px; text-align: center; display: inline-block; margin: 0px 0 0 69px; color: #333; } #fsb-social-bar .fsb-google { width: 75px; height: 25px; background-position: -136px -10px; line-height: 25px; vertical-align: middle; } #fsb-social-bar .fsb-google .fsb-count { width: 30px; text-align: center; display: inline-block; margin: 0px 0 0 41px; color: #333; } #fsb-social-bar .fsb-google .socialite-button { margin: 0 !important; } #fsb-social-bar .fsb-share-google .socialite-loaded .socialite-button{padding: 2px 0 0} #fsb-social-bar .fsb-facebook { width: 89px; height: 25px; background-position: -231px -10px; line-height: 25px; vertical-align: middle; } #fsb-social-bar .fsb-facebook .fsb-count { width: 30px; text-align: center; display: inline-block; margin: 0px 0 0 52px; color: #333; } #fsb-social-bar .fsb-facebook .socialite-button { margin: 0 !important;} #fsb-social-bar .fsb-share-facebook .socialite-loaded .socialite-button {padding: 2px 0 0} #fsb-social-bar .fsb-linkedin { width: 105px; height: 25px; background-position: -347px -10px; line-height: 25px; vertical-align: middle; } #fsb-social-bar .fsb-linkedin .fsb-count { width: 30px; text-align: center; display: inline-block; margin: 0px 0 0 70px; color: #333; } #fsb-social-bar .fsb-linkedin .socialite-button { margin: 0 !important; } #fsb-social-bar .fsb-pinterest { width: 88px; height: 25px; background-position: -484px -10px; line-height: 25px; vertical-align: middle; } #fsb-social-bar .fsb-pinterest .fsb-count { width: 30px; text-align: center; display: inline-block; margin: 0px 0 0 50px; color: #333; } #fsb-social-bar .fsb-pinterest .socialite-button { margin: 0 !important; } .fsb-clear { clear: both; } .fsb-clear:after { clear:both; content:; display:block; height:0; line-height:0; overflow:auto; visibility:hidden; zoom:1; } @media (max-width: 768px) { #fsb-social-bar.fsb-fixed { position: relative !important; top: auto !important; } } Facebook0Twitter0LinkedIn0Pinterest0
#fsb-social-bar { width: 100%; border-bottom: 1px solid #dbdbdb; border-top: 1px solid #dbdbdb; padding: 10px 0; margin: 0px 0 20px 0; float: left; background: #fff; position: relative; clear: both; } #fsb-social-bar a { border: 0px !important } #fsb-social-bar.fsb-fixed { position: fixed; top: -2px; z-index: 99999; } #fsb-social-bar .fsb-title { display: block; float: left; margin: 3px 20px 0 0; font-size: 16px; font-family: Arial, Helvetica, sans-serif; text-decoration: none; color: #333; } #fsb-social-bar .fsb-share-facebook { width: 120px; float: left; padding: 3px 0 2px; height: 25px; } #fsb-social-bar .fsb-share-facebook.fsb-hide-count { width: 44px; overflow: hidden; margin-right: 30px; } #fsb-social-bar .fsb-share-twitter { float: left; width: 135px; padding: 3px 0 2px; height: 25px; } #fsb-social-bar .fsb-share-twitter.fsb-hide-count { width: 61px; overflow: hidden; margin-right: 30px; } #fsb-social-bar .fsb-share-google { float: left; width: 105px; padding: 3px 0 2px; height: 25px; } #fsb-social-bar .fsb-share-google.fsb-hide-count { width: 33px; overflow: hidden; margin-right: 30px; } #fsb-social-bar .fsb-share-linkedin { float: left; width: 135px; padding: 3px 0 2px; height: 25px; } #fsb-social-bar .fsb-share-linkedin.fsb-hide-count { width: 61px; overflow: hidden; margin-right: 30px; } #fsb-social-bar .fsb-share-pinterest { float: left; width: 115px; padding: 3px 0 2px; height: 25px;} #fsb-social-bar .fsb-share-pinterest.fsb-hide-count { width: 43px; overflow: hidden; margin-right: 30px; } #fsb-social-bar .socialite { display: block; position: relative; background: url(http://clothtrainingpants.net/wp-content/plugins/floating-social-bar/images/fsb-sprite.png) no-repeat scroll 0 0; } #fsb-social-bar .socialite-loaded { background: none !important; } #fsb-social-bar .fsb-service-title { display: none; } #fsb-social-bar a { color: #333; text-decoration: none; font-size: 12px; font-family: Arial, Helvetica, sans-serif; } #fsb-social-bar .fsb-twitter { width: 105px; height: 25px; background-position: -13px -10px; line-height: 25px; vertical-align: middle; } #fsb-social-bar .fsb-twitter .fsb-count { width: 30px; text-align: center; display: inline-block; margin: 0px 0 0 69px; color: #333; } #fsb-social-bar .fsb-google { width: 75px; height: 25px; background-position: -136px -10px; line-height: 25px; vertical-align: middle; } #fsb-social-bar .fsb-google .fsb-count { width: 30px; text-align: center; display: inline-block; margin: 0px 0 0 41px; color: #333; } #fsb-social-bar .fsb-google .socialite-button { margin: 0 !important; } #fsb-social-bar .fsb-share-google .socialite-loaded .socialite-button{padding: 2px 0 0} #fsb-social-bar .fsb-facebook { width: 89px; height: 25px; background-position: -231px -10px; line-height: 25px; vertical-align: middle; } #fsb-social-bar .fsb-facebook .fsb-count { width: 30px; text-align: center; display: inline-block; margin: 0px 0 0 52px; color: #333; } #fsb-social-bar .fsb-facebook .socialite-button { margin: 0 !important;} #fsb-social-bar .fsb-share-facebook .socialite-loaded .socialite-button {padding: 2px 0 0} #fsb-social-bar .fsb-linkedin { width: 105px; height: 25px; background-position: -347px -10px; line-height: 25px; vertical-align: middle; } #fsb-social-bar .fsb-linkedin .fsb-count { width: 30px; text-align: center; display: inline-block; margin: 0px 0 0 70px; color: #333; } #fsb-social-bar .fsb-linkedin .socialite-button { margin: 0 !important; } #fsb-social-bar .fsb-pinterest { width: 88px; height: 25px; background-position: -484px -10px; line-height: 25px; vertical-align: middle; } #fsb-social-bar .fsb-pinterest .fsb-count { width: 30px; text-align: center; display: inline-block; margin: 0px 0 0 50px; color: #333; } #fsb-social-bar .fsb-pinterest .socialite-button { margin: 0 !important; } .fsb-clear { clear: both; } .fsb-clear:after { clear:both; content:; display:block; height:0; line-height:0; overflow:auto; visibility:hidden; zoom:1; } @media (max-width: 768px) { #fsb-social-bar.fsb-fixed { position: relative !important; top: auto !important; } } Facebook0Twitter0LinkedIn0Pinterest0
There are many shopping malls with fashionable clothing, designer wears, other items like cosmetics, handbags etc. You need to reserve dedicated time for your shopping in malls. Most malls do not operate on 24/7 basis, so you must make sure that you really plan your shopping trip to get the best and spend a good number of hours in there. However, when it comes to online shopping you always have the advantage of taking your own time to choose the products, browsing through the catalogues, and any time of the day. You don't need to allocate a specific time to do your shopping. There is nothing to worry if it does not suit you because there is 'return and exchange" policy through which you will receive e-vouchers which can be used at a later stage.
The right colour selections:
Right colour selections for an outfit makes a huge impact on your looks. Everyone has unique tastes for their clothing. However, a single colour prints on white background has its own unique authenticity. Colours like pink, blue, black, orange on white background suits outfits like kaftans or butterfly tops and maxis. The material used to prepare these outfits vary from season to season; thus the summer collection will be different than the winter collection. Whatever collection it may be, they are merely beautiful.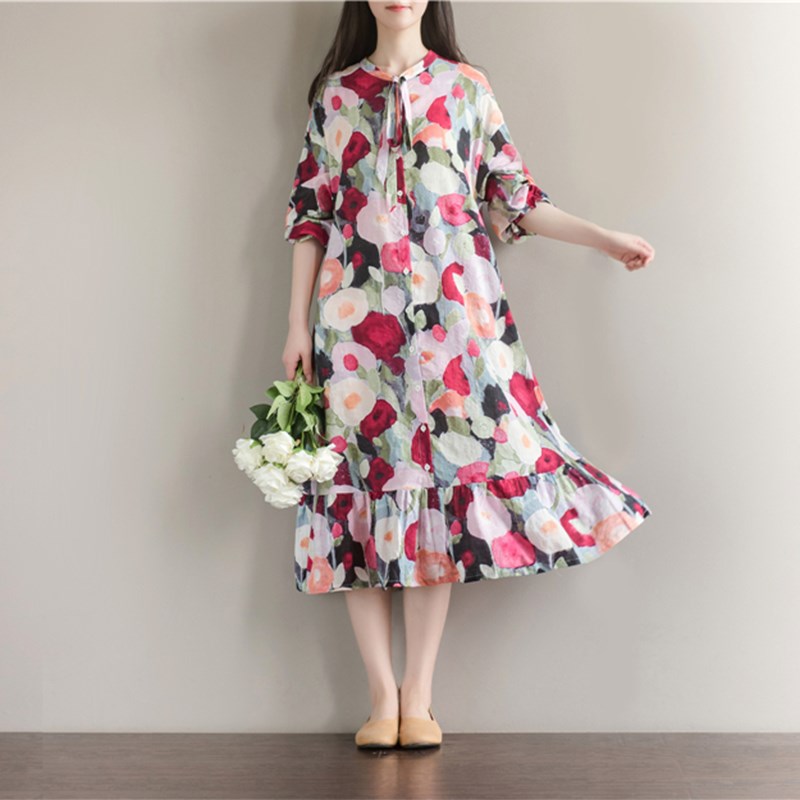 Outfit that suits all:
Maxis and kaftans are outfits that generally suit every women regardless of the complexion, age or size. Plus size kaftans are ideal for women who are not on the slim side. It does not expose the real size. Kaftans are ideal for wearing on top of the swim wear for ladies. Maxis also generally suit everyone and they are a very decent outfits. Even they are a bit lose they look good on you.
Online ordering options:
One can place web orders for whole sale purpose or retail purpose. Professional online manufacturers make sure they safeguard your identity or personal details, so there is nothing to worry about hampering your personal details. You can review all kaftans online, before placing your order for wholesale or retail like other outfits, to make a decision on your order.You can also order gift cards for various amounts online. These are ideal for a gift. It is always better to have a couple of clothes that are stylish, beautiful and of top quality; as they become handy on occasions where you host a party or go on holidays, even though you don't wear them on a regular basis. So go to the web and check on the fashionable options and yes, you have the right to look elegant. Make sure you place your order today!
No related posts.
Related posts:
How To Make The Symbol Of Corporate Positioned In The Official Attire